Paolo Esquivel
Research Focus
Paolo is a Photo Editor at ABI Research's Teardown Service with a focus on tearing down, photographing and taking hi-resolution x-ray images of devices in multiple stages of the teardown.
Past Experience
Prior to joining ABI Research, Paolo worked in Technical Sales at a Texas-based touch screen manufacturer.
Education
Paolo majored in Arts and Technology at the University of Texas at Dallas.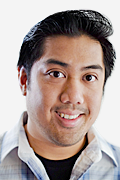 Paolo Esquivel
Photo Editor
Location
Dripping Springs, TX
Topics Covered
Teardowns