Lian Jye Su
Research Focus
Lian Jye Su, Senior Analyst at ABI Research, is responsible for orchestrating research relating to network infrastructure vendors and mobile service providers in 4G, 4.5G, and 5G future services. He works with various clients regarding numerous syndicated and custom research topics, including telco network infrastructure deployment and optimization, LTE mission critical communication systems, network virtualization, and telco cloud-based services. Lian Jye also has specific research focus on private LTE network, and has published reports on different business verticals, such as public safety and mining.
Past Experience
Prior to joining ABI Research, Lian Jye worked in several healthcare organizations, in both the technical and business domain. He held various roles in quality management, operation reviews, and market research analysis.
Education
Lian Jye earned a B.Sc. in Life Sciences from the National University of Singapore. He then completed his Master in Business Administration at Melbourne Business School in Australia, with a dedicated specialization in market research and business strategy.
Blogs by Lian Jye Su
Lian Jye Su in the News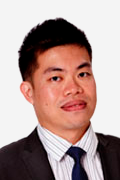 Lian Jye Su
Senior Analyst
Location
Singapore
Follow Lian Jye
Topics Covered
4G, 5G, LTE, Telco Cloud Platforms
Contributes To