Kyle Warren
Research Focus
Kyle Warren, Teardown Analyst at ABI Research, is responsible for tearing down and photographing devices, as well as identifying new and existing parts within them. Additionally, he assists the senior team with device pricing.
Past Experience
Prior to joining ABI Research, Kyle worked in a wide variety of fields related to graphic design. Kyle is also an accomplished painter and illustrator.
Education
Kyle majored in Studio Art at the University of Idaho.
Kyle Warren in the News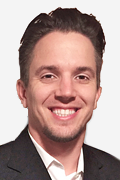 Kyle Warren
Teardown Analyst
Topics Covered
Teardowns