Khin Sandi Lynn
Research Focus
Khin Sandi Lynn, Industry Analyst at ABI Research, focuses on services, hardware and related technologies in the Virtual Reality, Pay-TV and Broadband areas. Lynn contributes market analysis to Virtual Reality research reports, pay TV and broadband market forecasting, set-top boxes, broadband, and Wi-Fi CPE.
Past Experience
Lynn previously worked in the telcos sector in Myanmar. Her experience includes customer care, as well as research and analysis in traffic load engineering.
Education
Lynn earned a B.E. (Electronics) degree from Yangon Technological University in Myanmar, and a M.Eng degree in Information and Communication Technology from the Asian Institute of Technology in Thailand.
Blogs by Khin Sandi Lynn
Khin Sandi Lynn in the News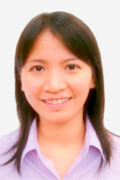 Khin Sandi Lynn
Industry Analyst
Location
Canada
Contributes To