Dan Kara
Research Focus
In his role as Research Director, Robotics at ABI Research, Dan provides deep, informed analysis of automation, robotics and intelligent systems business and technical trends across various industries, and works with industry stakeholders to highlight opportunities, identify emerging markets, and build new, profitable, lines of business.
Experience
Prior to joining ABI, Dan was Chief Research Officer for Myria RAS, a research and advisory services firm focused on robotics and intelligent systems trends, and President of Robotics Trends, an integrated media and research firm. Dan has also worked as Executive Vice President of Intermedia Group, Director of Research at Ullo International, and Chief Technical Officer of Software Productivity Group.
Education
He holds a MS in Computer Science from Boston University.
Blogs by Dan Kara
Dan Kara in the News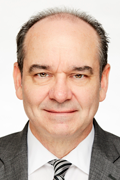 Dan Kara
Research Director
Location
Massachusetts, U.S.
Follow Dan
Topics Covered
Robotics in Construction, Consumer, Security, Healthcare, Agriculture, Education, AI
Contributes To