Andy Sweis
Research Focus
Andy Sweis, Principal Analyst, leads ABI Research's Smart Retail segment, which covers customer analytics and engagement, advertising, inventory management, fulfilment/delivery, employee efficiencies, indoor location technologies, POS and the impact of cloud; holistic understanding of the overall IoT retail ecosystem; help retailers to rollout technology, increase sales, build exciting customer experiences and ROI across all their sales channels.
Past Experience
Andy's background includes a vast level of Consumer Goods, Retail, and Business Intelligence experience. He previously worked for PepsiCo, Abbott Laboratories, Constellation Brands and other major CPG organizations within capacities of Category Management, Insights & Analytics, and Operations Managements. He worked with all national account retailers in the Grocery, Club, Mass, Convenience, and Drug channels and applied various strategies with them to grow sales, increase shopper traffic, and streamline store operations using data, research, and analytics.
Education
Andy graduated with a B.S. in Operations and Information Management from Northern Illinois University and holds certifications in JDA Space Planning as well as the Category Management Association.
Andy Sweis in the News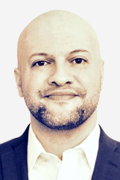 Andy Sweis
Principal Analyst
Location
Scottsdale, U.S.
Topics Covered
Smart Retail