Smartphones & Wearables
The device technologies service covers smartphones, wearables, mobile broadband, accessories and new device form factors. It provides invaluable research and data synergies spanning these major sectors, including integral ecosystem analyses. Our coverage looks at new technologies and design concepts for all major product lines. This includes the most future-looking features and functionalities as well as key innovation across both hardware and software technologies. Special focus is given to technology innovation including application processing, next generation connectivity (including 5G), and sensor platforms. All coverage provides granular assessments of the most transformative technologies from the RF systems and modems to processing platforms to next generation functionalities, such as AI implementations, AR and VR use cases, imaging and display technologies, etc. The research also extends to strategic analyses of the key stakeholders and their market shares operating across this device ecosystem, plus a focus on relevant consumer and enterprise applications.
Featured Research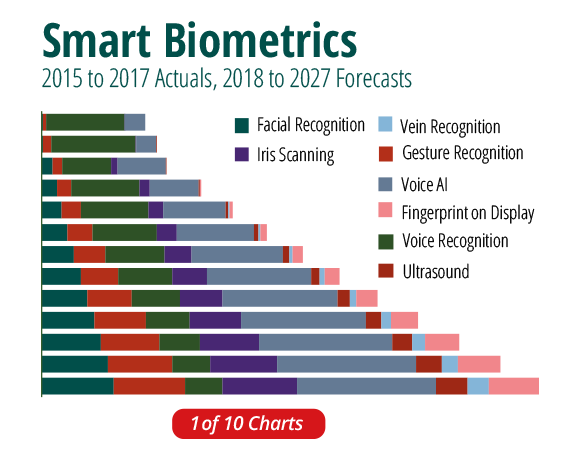 Emergent Mobile Device Technology Trend Analysis
The aim of this study is to provide market sizing and forecasts for key human-machine interfaces, presenting actual and expected trends for various advanced, device-enabling technologies to predict how product innovation may evolve for both smartphones and tablets between 2015 and 2027. This includes a detailed analysis of key product entries, market opportunities/threats, as well as strategic recommendations to drive growth and profitability for device manufacturers. Major transformative technologies include iris scanning, fingerprint on display, 5G, AI, rear dual camera, 8K display, wireless charging, foldable/flexible display, USB type-C, >IP60, NFC, and e-SIM.
Continue
Executive Foresights
1Q 2019
The recent announcement that the Federal Communications Commission (FCC) has approved Google's use of its sensor technology--called Project Soli--could be the shot in the arm that the smartphone market, wearables and beyond, has been looking for to make gesture control more widespread in any number of devices and applications. Google's solution looks set to provide an effectual alternative to other gesture control technologies already making their mark on the smart devices market, thereby bringing ever-closer a future where interactive touchless hand gesture recognition technologies will become the norm, allowing an increasing number of tasks to be performed on a device via a more natural, intuitive interface.
Insights
1Q 2018
The eSIM remains a hot topic and one which original equipment manufacturers (OEMs), mobile network operators (MNOs), smart card and secure IC vendors continue to explore, prepare and strategize. Today, the handset market has begun to move, driven by Google's recently launched Pixel 2 handsets with eSIM inclusion, raising expectations that other OEMs will follow suit. In addition, the rise of the eSIM has raised fears that it may be used as a platform for OEMs to directly compete with its current MNO customer base, using the eSIM as a platform from which to launch MVNO services.