Subscribe Smart Manufacturing
ABI Research's Smart Manufacturing market intelligence provides foresight on the technologies, services, solutions, and providers impacting the Industrial IoT value chain; how the disruptive and transformational impact of technology is driving new business decisions across and between IT and OT teams; and what it means for the way we work. Critical technologies covered in terms of the benefits they offer include AI, Robotics and bots (automation), AR and wearables (assistance and visibility), VR (training), industrial connectivity, digital twins, and related software and application collaboration tools (efficiencies) for both internal and customer facing functions. These technologies touch everything from connected sensors through platform design, manufacturing, maintenance, operations, and service workflows. Our extensive research uncovers the critical information technology end-users, implementers, investors, suppliers, governments, and economic development groups and other stakeholders need to manage IT/OT integration.
Featured Research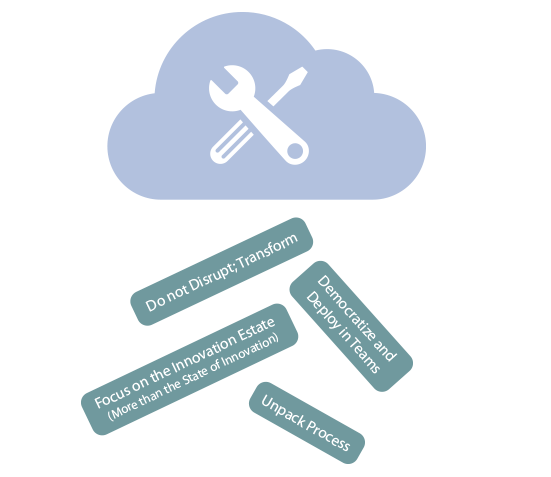 The Industrial Cloud
Today, most IoT analytics operations occur in the cloud. This is partly driven by supplier offerings and partly because the cloud offers a centralized location for large amounts of affordable storage and computing power. There are, however, a growing number of instances in which it makes more sense to perform analytics closer to the "thing" or activity that is generating or collecting data ­– equipment deployed at customer sites (generators, trains, wind turbines). This is particularly true in industrial and manufacturing environments, which are familiar with the challenges of managing massive amounts of generated data (typically by parking it in a data lake or the like) and general digital product development (e.g., CAD models), but lag when it comes to the virtualization of business-critical infrastructure.
Continue
Executive Foresights
4Q 2018
Industrial companies have used geometric topology optimization for several years now and are using it more because they have increased the use cases for Additive Manufacturing (AM). Topology optimization involves changing the geometric shape of a product given a set of constraints to improve its performance. Generative design takes this up a step by creating, or generating, the geometric shapes from nothing rather than changing the existing shapes.
Insights
4Q 2017
In December 2017, ABI Research published the second iteration of the Industrial Internet Connectivity Tracker. The Industrial Internet Connectivity Tracker provides highly segmented data and forecasts through 2026 to support Industrial Internet of Things (IIoT) business initiatives and go-to-market plans. It includes three major application segments: Industrial Smart Glasses, Robotics & PLCs and Other Equipment Monitoring. Industrial Smart Glasses are augmented reality (AR) glasses used in manufacturing applications. Robotics & PLCs refers to industrial connected robots and connected programmable logic controllers, and other equipment monitoring covers connections for condition-based monitoring of stationary industrial equipment ranging from weight scales to pumps and tanks, mining equipment, batteries and elevators.