Digital Security Research Service
ABI Research's digital security research offers end-to-end coverage of the digital security ecosystem – from information and communication technologies to operational control process. This research is particularly salient to enterprises facing the growing proliferation of cyber threats, while also becoming increasingly connected, as in the convergence of IT and OT.
Featured Research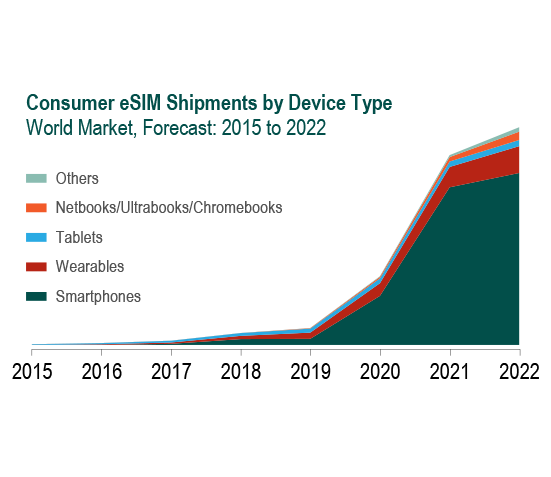 eSIM in the Consumer Market
The consumer eSIM market remains in a nascent phase, but one which is rapidly evolving in terms of device support and component development. 2017 proved an extremely important year for the consumer eSIM market, thanks to the launch of the Google Pixel 2, alongside the Apple LTE Watch series 3. Despite this, the market is still awaiting its tipping point and in the interim, those active in the development of the required eSIM hardware have been innovating through technology convergence in a bid to differentiate prior to tipping point realization.
The eSIM form-factor is one which is transformative in nature, which will undoubtedly impact the entire SIM value chain in some way, shape, or form, impacting business models, sales channels, processes across smart card, secure IC, MNO, and OEM vendor types.
Continue
Executive Foresights
2Q 2019
Connected industrial control systems are still lagging behind in cybersecurity technologies. While the underlying premise of the Industrial Internet of Things (IIoT) is pushing for an ever-increasing number of connected nodes, cybersecurity technologies and procedures are so massively lagging behind that the danger of critical failure is a threat that industry players are not well-equipped to combat.
Insights
1Q 2018
The eSIM remains a hot topic and one which original equipment manufacturers (OEMs), mobile network operators (MNOs), smart card and secure IC vendors continue to explore, prepare and strategize. Today, the handset market has begun to move, driven by Google's recently launched Pixel 2 handsets with eSIM inclusion, raising expectations that other OEMs will follow suit. In addition, the rise of the eSIM has raised fears that it may be used as a platform for OEMs to directly compete with its current MNO customer base, using the eSIM as a platform from which to launch MVNO services.