| | |
| --- | --- |
| COVID and the Chip Shortage—the Double Impact | NEWS |
---
From an eSIM perspective, both the consumer and Market-to-Market (M2M) side experienced some form of impact from COVID-19. Although the overall market grew Year-over-Year (YoY), certain end markets suffered and this resulted in a limitation as it related to eSIM market growth potential.
In 2021, a new market constraint made itself known: the chipset shortage. Considered a byproduct of COVID, the chip shortage has the potential to impact markets more greatly and over a longer period of time. With 2021 just closed, vendors are beginning to better understand the chip shortage impact potential and although in 2021, the impact was not as severe as first anticipated, all eyes are now turning to 2022, considered by most industry players as the critical chip shortage impact year.
| | |
| --- | --- |
| What Happened Driven by COVID | IMPACT |
---
Though both the consumer and M2M side experienced some form of impact from COVID-19, eSIM markets overall did not result in a market decline.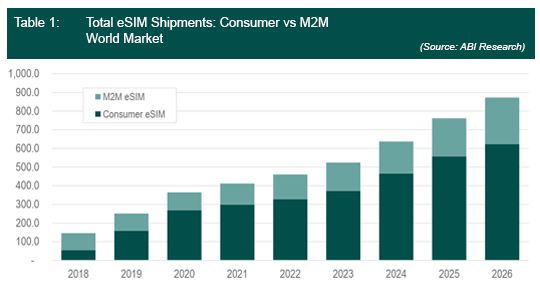 In 2020, new eSIM-enabled consumer devices came to market …
You must be a subscriber to view this ABI Insight.
To find out more about subscribing contact a representative about purchasing options.