| | |
| --- | --- |
| Adapting to Changes in the Video Market is Difficult, but Opportunities Await | NEWS |
---
Whether many of us (at some deep-down unconscious level) are fatalists who believe our destiny lies in ruin or perhaps we simply have a case of schadenfreude, we often gravitate towards negative news, and as a result have a tendency to look at the larger picture illuminated by this negative light. While a healthy dose of skepticism is valuable, we would be remiss to ignore alternate pathways that produce more favorable results. This is especially true of the TV and video market. Take, for example, the arrival of YouTube and how the media and many within the industry reacted. For a period, individuals started sounding the death knell for pay TV because no one would pay for cable if everyone could get it for free, on their schedules and whenever (and eventually wherever) they wanted. If we look at pay TV subscriptions in the United States, however, we see a very different result.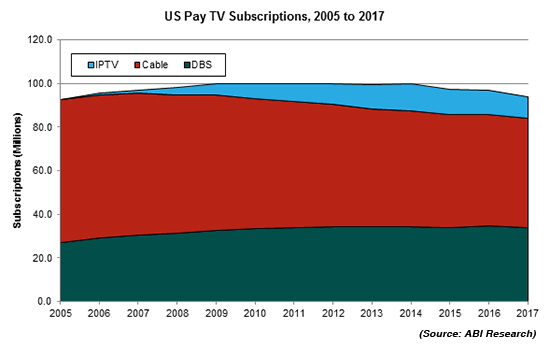 It took 8 years before total pay TV subscriptions in the U.S. market declined and 10 years before the market started to see a consistent er…
!-->!-->
You must be a subscriber to view this ABI Insight.
To find out more about subscribing contact a representative about purchasing options.