| | |
| --- | --- |
| HERE's Open Standardized Location Platform | NEWS |
---
In the first half of 2017 HERE will pioneer the first connected car services based on aggregated sensor data from competitive brands. A variety of embedded sensors from connected Audi, BMW, and Mercedes-Benz vehicles on the road will be used to offer four distinct services relating to real-time traffic, hazard warnings, road signs, and on-street parking. These services will be made available to customers wishing to license them.
While most connected services to date have relied on GPS probe data to enable real-time traffic, HERE's Open Location Platform will enable services built on far richer and more varied sensor data, including camera and ultrasonic sensors, brake pressure sensors, ABS and ESC (electronic stability control) sensors, and the status of windshield wipers, hazard lights, headlights, and fog lights, amongst others.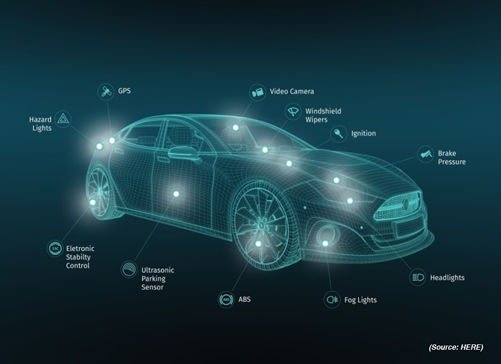 The role played by HERE in this data-sharing approach is to aggregate the sensor data and enrich them with the context of location, allowing new and improved service content to be delivered to dri…
You must be a subscriber to view this ABI Insight.
To find out more about subscribing contact a representative about purchasing options.