| | |
| --- | --- |
| Improved Performance | NEWS |
---
The Wilson Sporting Goods Company is set to release its Wilson X Connected Football in September 2016, following the release of its connected basketball in September 2015. The company targeted its Wilson X Basketball toward pro-athletes, while the football will cater to a wider market. Wilson featured the following product demonstration booth at a sports camp for boys and girls between first and eighth grade, which is quite a different target market than pro athletes: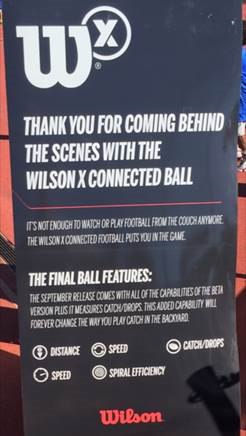 The Wilson X Connected Football uses an internal gyroscope (the company claims that this does not affect the weight or torque of the football when compared to non-connected footballs) to measure the following metrics: the distance a ball is thrown, the spin rate, the speed, its spiral efficiency, and the user's catch/drop rate. The connected football is priced at US$199.99, which is the exact price of its connected basketball already on the market.
| | |
| --- | --- |
| Practice Makes Perfect | IMPACT |
---
Consumers can get a non-connect…
You must be a subscriber to view this ABI Insight.
To find out more about subscribing contact a representative about purchasing options.