As consumer expectations shift further towards sustainable solutions, the payments market is finding that echoing these values and committing to ecological practice is more likely to achieve customer retention. With agile start-ups, branchless banking, a digital-first approach, and flexible business models, neo and challenger banks are placing themselves in a prime position to capture this market.
Registered users can unlock up to five pieces of premium content each month.
| | |
| --- | --- |
| Consumer Expectations Shift Further Toward Sustainability | NEWS |
---
The increase in sustainable banking and the drive towards more sustainable materials is a telling indicator about the values that are held in high regard in modern society and especially around what banks looking at their Environmental, Social and Governance (ESG) goals need to do to earn the trust and loyalty of today's conscious consumers.
A sharp rise in environmental awareness has become a catalyst in pushing a new wave of sustainable banking practices. The ever-growing expectations of ecologically conscious consumers is forcing financial institutions to examine how to implement a new future for the payments market as it relates to innovation in new services and practices.
| | |
| --- | --- |
| How Critical Are Consumer Values Becoming? | IMPACT |
---
The expectation nowadays from sustainably-minded consumers is that banks should reflect the values of their customers and demonstrate a clear agenda towards becoming more sustainable. This has changed drastically from a decade ago, where the expectations that a prospective customer might have about a bank pivoted around offerings such as a nearby branch location, access to current accounts, competitive mortgage rates, and insurance offerings. Greener payments and sustainable practices simply didn't factor as a consideration as there was a significant lack of visibility on the connection between the banking industry and carbon footprints and sustainability.
Customers now clearly opt for banks and financial institutions that reflect their global values by developing and adopting sustainable banking practices, with a vast majority of consumers preferring their bank to actively contribute to preserving the planet and offering sustainable material payment cards.
This changing attitude is now being evidently followed by the banking industry. Especially in the wake of the COVID-19 pandemic, many banks around the world have put emphasis into their environmental focus via net- zero and carbon offsetting. As of 2022, 53 banks from 27 countries have joined the Net-Zero Banking alliance set up in 2021, demonstrating a clear commitment to reflect the values of their customers and achieve net-zero by 2050.
| | |
| --- | --- |
| NEO and Challenger Banks Have Made Their First Move | RECOMMENDATIONS |
---
Neo and challenger banks have drawn their line in the sand as it relates targeting eco-conscious consumers and positioning themselves well to drive sustainability in the payments market, sporting more flexible business models and branchless banking, which only serves to benefit when looking to minimize carbon output.
Focusing heavily on captivating User Interface (UI) and banking which conveniences the accountholder, neo and challenger banks have found swift uptake in the market in Gen-Z and Millennial customers who are more likely to be eco-conscious. However, while catching the attention of this section of the market is critical, delivering customer stickiness over a longer timeframe can only be achieved by reinforcing the message that their solutions are truly sustainable. This customer base is drawn to, and will stay with, offerings and services that are focused on delivering a sustainable future and that achieves key ESG (Environmental, Social, and Governance) goals, with the onus being placed on neo and challenger banks to fulfil these expectations in order to ensure customers do not transfer their business elsewhere. Neo and challenger banks from all regions have been actively launching sustainable solutions over the last few years, with a few examples of:
In March 2021, Starling Bank began issuing payment cards made from recycled PVC, cutting the demand it receives for first-use PVC.
GoHenry, a UK fintech, issues a debit card for children made with biodegradable Poly-Lactic Acid (PLA), citing that 82% of the card will decompose in landfill.
Neobanks Tomorrow and Treecard are debuting debit cards made from sustainably sourced wood.
US based neobank Unifimoney, a fintech targeting the mass affluent customer, has launched a card constructed of reclaimed ocean plastic.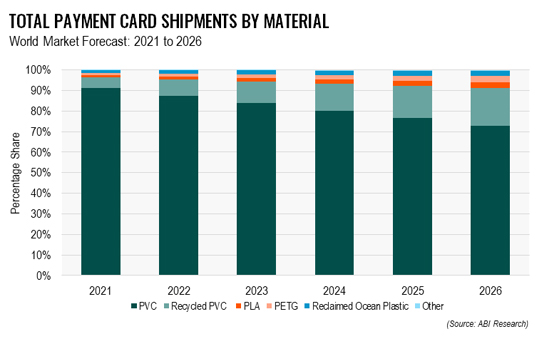 Neo and challenger banks will support the migration away from first-use plastic in the payments ecosystem. As it relates to the physical card side of the total payments market for both neo/challenger banks and traditional banks, ABI Research forecasts a large growth in the number of sustainable payment card shipments, reflected in a significant downfall in shipment volumes of first-use Polyvinyl Chloride (PVC) payment cards from 3.1 billion in 2021 to 2.5 billion in 2026.
Recycled PVC, in particular, is forecast to be by far the largest replacement of first use PVC in the payment card market where many major card vendors, such as Thales, IDEMIA, and Giesecke and Devrient (G+D) have established recycled PVC (rPVC) as a mainstay material. Driven by large issuing banks in Europe and spreading across all regions, the convenience, price-point, availability, and integration with existing personalization infrastructure will lend itself well to seeing rPVC shipments increase from 177.5 million shipments in 2021 to 638.0 million in 2026. More on sustainability in payments can be found in ABI Research's Alternative Solutions for Sustainability in the Payments Market.