The government of Malaysia intends to introduce a digital identity in order for citizens to access online services and transactions.
Registered users can unlock up to five pieces of premium content each month.
| | |
| --- | --- |
| Digital Identity Ecosystems in Malaysia | NEWS |
---
The government of Malaysia intends to introduce a digital identity in order for citizens to access online services and transactions. The current intent is for citizens to perform digital identification and authentication and leverage contemporary biometric technologies such as face, fingerprint, and iris recognition when authenticating online in an effort to cut down on the risk of identity fraud. Currently, the government of Malaysia plans to roll out this project in 2024, though it is worth noting that the digital ID is not expected to replace the physical MyKad national ID card and will act as a companion as is typically seen with mobile/digital ID expansions.
With a digital ID in place, verification of citizens that possess the physical MyKad credential can be streamlined and crucially will assure public confidence that the Malaysian government is providing a secure ID verification system that strengthens citizen-to-government and government-to-citizen communication. As an addition to the digital ID platform that is being developed, the Malaysian government is seeking to modernize its Vital Statistics system—something that is typically paper-based and decentralized across local municipalities in the Asia-Pacific region—and, as a result, has already formed the System Mortality Integration Data Validation (SPDIM) in partnership with the police. The SPDIM system eases the death verification process by enabling online death verification, expediting the registration and issuance of death certificates. This goes a long way to modernizing the Vital Statistics system in Malaysia and provides the opportunity to expand other vital statistics systems and ID applications using similar methods.
Malaysia is following many other countries in the push toward digital service transformation and is pivoting many identity-based services online as part of the Industrial Revolution 4.0 (also known as the Fourth Industrial Revolution). Transforming legacy-based or manual-paper-based infrastructure and processing to systemize digitized ecosystems that are accessible anywhere and by any verified individual increases the level of data information security, protects against fraudulent activity, and secures the confidence of citizens in their government.
| | |
| --- | --- |
| The Philippines Is Also Looking Toward Mobile | IMPACT |
---
Elsewhere in Asia-Pacific, the Philippine Statistics Authority (PSA) is pursuing its own version of a mobile national ID credential in support of the Philippine Identification (PhilID) physical document. Having confirmed in August 2021 that a digital credential would be launched alongside the smart card form factor, the PSA has now established that the mobile ID will launch in early 2022. This digital expansion is an extension of the Philippine government's PhilID program. While the physical card has been issued for a while now, the dispersed population and archipelagic landscape of the Philippines has posed a problem in dispersing the credential to all citizens who require it.
Therefore, the project will utilize the mobile version to overcome issuance hindrances of the physical cards. Mobile PhilIDs will help to relieve backlog for the physical card and be used as a companion for valid proof of ID—a necessity when citizens are accessing various government services and in commercial exchanges with banks and private businesses—while they await delivery of their smart card. To obtain the mobile version of the PhilID, citizens have to be registered for the physical ID document to ensure that they will receive the ID once the issuance backlog has been cleared, and they must provide personal information, biometric information, and supporting credentials. Once the application for the physical ID card is complete, citizens can generate a Philippine ID System Number from which the mobile ID can be derived once the program is deployed in early 2022.
As a country, the Philippines has been supportive of digitization in a number of its sectors and has long intended to overhaul its ID and verification systems in an effort to keep up with the most advanced countries in the region. This has been demonstrated on a number of occasions—for example, the Philippines has been preparing for new national ID cards for several years, the government has passed the Philippine Identification System Act in 2018, and the country has also made biometric registration a part of its election process.
| | |
| --- | --- |
| The Asia-Pacific Mobile ID Market | RECOMMENDATIONS |
---
The inexorable shift from simple digitization (dubbed the Third Industrial Revolution) to innovative solutions based on unified technologies (the Fourth Industrial Revolution) is forcing governments to revise their identity road maps, to tackle issues of fraudulent identity form factors, and to modernize their service offerings to citizens. This is a rapidly occurring change in the Asia-Pacific region.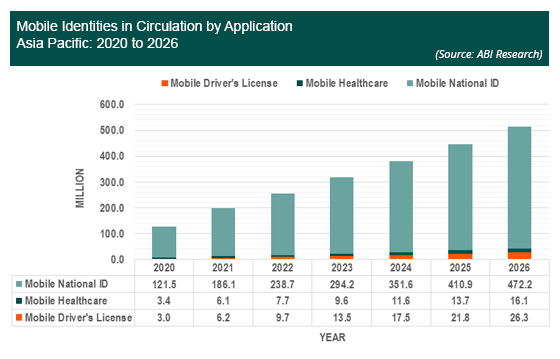 South Korea has a long-established national ID system and is expanding its use of digital ID solutions. As per South Korea's recently implemented Digital Signature Act of December 2020, the government promotes the use of electronic signatures, biometric authentication, and blockchain technologies while limiting restrictions on electronic signature systems. In 2021, the three largest mobile network operators of South Korea—SK Telecom, KT, and LG Uplus—have unified alongside the Korean National Police Agency and Road Traffic Authority to issue a digital driver's license that acts as an addition on top of the identity authentication app, PASS, that was created in 2018. This will support mobile driver's licenses in the region as they are expected to grow from 6.2 million in circulation in 2021 to 26.3 million in 2026.
Thailand is developing identity laws with the purpose of substituting physical ID cards with a digital ID form factor. The overall intention is a "self-sovereign" digital ID management system that seeks to use blockchain as an enabling technology for ID verification in an expedient and secure manner. Further, the digital ID—supported by distributed ledger technology—will permit citizens to own their identities, allowing citizens to provide only the minimal information that is necessary to validate themselves rather than their entire profile.
Singapore has already deployed its national digital ID platform, the Singpass, and has become the first global economy to introduce facial biometrics for authentication and access to services. The Singpass provides citizens with a way to securely verify themselves and gives access to both private and government services—for example, in branches of the Inland Revenue Authority of Singapore as well as in the commercial banks DBS and OCBC that are now permitting customers to leverage their Singpass to authorize transactions and to open accounts.
These projects are a clear sign that the region is moving toward rapidly digitizing citizen IDs and government systems; the number of mobile national ID credentials in circulation is expected to propel from 186.1 million in 2021 to 472.2 million in 2026.