The average selling price of new high-end smartphones is reaching nearly US$1,000. However, early user experiences suggest that durability and security are still lacking. ABI Research's analysis shows two steps that should be taken to remedy the shortcomings as well as the resulting opportunity for aftermarket accessory suppliers.
Registered users can unlock up to five pieces of premium content each month.
| | |
| --- | --- |
| New Class of High-End Smartphone in Conflict with UX Expectations | NEWS |
---
Should a device that costs US$1,000 operate better—i.e., faster, more securely, and more reliably—than a device that costs US$500? The answer may seem obvious; however, this dilemma is increasingly faced by consumers and business users of the latest high-end smartphones. As more people gain access to the new generation of mobile technology, the chance of an accidental drop or the contents of the device becoming compromised increase.
Device manufacturers can address durability and options for more flexible authentication tools. Accessory suppliers should seize this opportunity to provide custom and personalized physical protection solutions.
| | |
| --- | --- |
| Making the Case for Multi-Factor Authentication | IMPACT |
---
Only a couple of weeks have passed since Apple shipped its first iPhone X smartphone and already hackers have claimed to circumvent the device's FaceID authentication system. Using a combination of 3D printed mask, color printouts, and a silicon nose mold, the group demonstrated that it could fake the iPhone X sensor into believing the mask was the trained user.
A lot of questions remain to be answered about how easy this experiment is to duplicate and if the hackers did this without modifying the facial features of the human when FaceID was initially set up. It shows conclusively that FaceID has no liveness test (requiring blinking eyes or facial expressions, for example).
The potential vulnerabilities of facial recognition systems are further being tested by consumers. Siblings and children are unlocking the family iPhone Xs and posting videos on YouTube of the facial recognition not working. While these early reports may not be indicative of a systemic issue with the FaceID subsystem, it only takes a handful of bad user experiences to cause the entire market to form a negative opinion of a product, service, or brand. In 2016, Intel pulled its Basis Peak smartwatch off the market after a few users reported heat-related issues that could burn the wearer's skin. And Samsung recalled millions of Galaxy Note 7 devices after some users encountered batteries that combusted (Several reports of iPhone 8 battery swelling have been reported and media reports say Apple is investigating the issues). Both recall examples posed a health and safety issue, yet appeared in less than 1% of their respective installed user bases.
Most consumer-based biometric technologies for smartphones and tablets are not considered "true" or "full" biometrics. For example. consumer solutions generally use fewer minutiae points (specific points on a finger or face) than live fingerprint scanners use at border control checkpoints (which is about 30), despite knowing that individuals share generally about eight similar minutiae. So, when you scan your fingerprint on a phone, it is not scanning your whole fingerprint, just a dozen or so points. And consumer implementations do not check for liveness either, making the product much easier to hack. This is going to be true for other consumer biometrics, including FaceID and facial recognition. The tech will use a dozen points and a much simpler algorithm than what would be used for government or military applications. Otherwise, the cost would simply be too prohibitive. As such, using consumer biometrics for authentication and identity is a terrible idea.
Nevertheless, it shows that FaceID should not be an iPhone X owner's only means of authentication, rather multi-factor authentication (MFA) or continuous authentication techniques are necessary to keep access to a device from falling into the wrong hands. MFA is the approach that businesses use to address the shortcomings of passwords.
| | |
| --- | --- |
| Premium Smartphones Create New Revenue Stream for Accessory Makers | COMMENTARY |
---
The next generation of high-end smartphones will push the average selling price (ASP) upward toward US$1,000. If early user experiences of iPhone X are any indication, the first action that a purchaser of this new device class should take is to install a protective case on the smartphone. The second action that the buyer should take is to install security software that enables MFA, such that FaceID (or any single authentication factor) is utilized alongside other methods to determine the legitimacy of the user.
Nearly 815 million protective and carry cases will be shipped for smartphones in 2017. The five-year outlook shows continued growth. However, if smartphone original equipment manufacturers (OEMs) ignore the need to further protect the integrity of the device's mechanical design, the forecasted rate of growth will increase.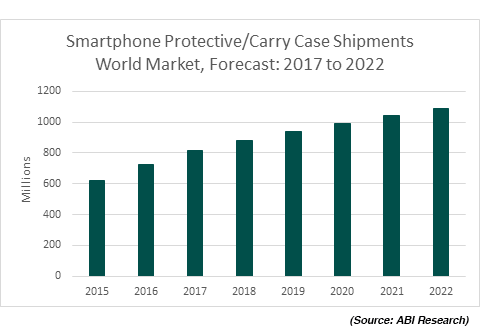 ABI Research further expects that these new premium flagship handsets will surpass 10% of the smartphone volume mix during 2018, making them an attractive source of accessories revenue.
Companies, such as Samsung, have looked to offset the concerns about durable smartphones by offering models that include additional hardening of the enclosure and display. Yet, it is typically limited to a single model of the portfolio and marketed to demographics that place value in the rugged nature of the handset, including parents and businesses.
Not only does technology iterate and evolve in the mobile device market. The expectations of a great user experience (UX) are also changing with new generations of users. A key element to future device purchases will be the UX promise and how brands associate themselves with qualities like reliability, customization, personalization, and trust. Reliability and security must be ingrained in the design and implementation of mobile devices. Aftermarket accessories can augment the device to make it last longer in some circumstances, but it does not replace quality design practices.