On September 26, 2016, HERE announced a suite of new real-time services to be launched in 2017 that are based on data from sensors embedded in connected Audi, BMW, and Mercedes-Benz cars. Going forward, HERE looks to position its Open Location Platform as the central nexus of a collaborative framework, which will see competitive OEMs, as well as players from outside of the automotive industry, sharing data to enable new services that will improve the driving experience.
Registered users can unlock up to five pieces of premium content each month.
| | |
| --- | --- |
| HERE's Open Standardized Location Platform | NEWS |
---
In the first half of 2017 HERE will pioneer the first connected car services based on aggregated sensor data from competitive brands. A variety of embedded sensors from connected Audi, BMW, and Mercedes-Benz vehicles on the road will be used to offer four distinct services relating to real-time traffic, hazard warnings, road signs, and on-street parking. These services will be made available to customers wishing to license them.
While most connected services to date have relied on GPS probe data to enable real-time traffic, HERE's Open Location Platform will enable services built on far richer and more varied sensor data, including camera and ultrasonic sensors, brake pressure sensors, ABS and ESC (electronic stability control) sensors, and the status of windshield wipers, hazard lights, headlights, and fog lights, amongst others.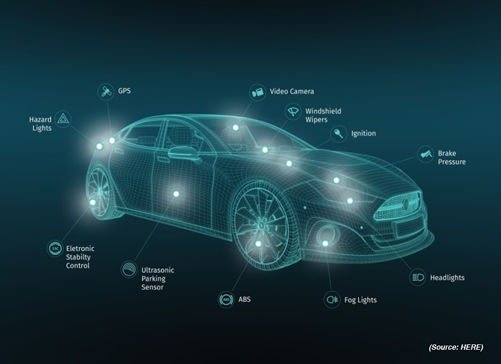 The role played by HERE in this data-sharing approach is to aggregate the sensor data and enrich them with the context of location, allowing new and improved service content to be delivered to drivers on the road. The open nature of the location platform means that more OEMs will be able to contribute their connected sensor data, adding to the driver experience, as well as the quality of data available to local road authorities and other municipalities.
HERE also understands very well that standards will be a prerequisite for scalable data sharing by defining and then open sourcing its SENSORIS data specification to the ITS community via the EU's public-private partnership ERITCO-ITS Europe.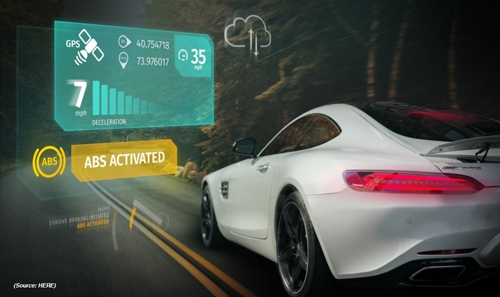 | | |
| --- | --- |
| Next Generation Connected Car Services | IMPACT |
The initial suite of four services enabled by the Open Location Platform is as follows:
HERE Real-time Traffic: This service builds on HERE's existing traffic services using the richer sensor data to provide a more accurate depiction of the state of traffic flow and the location of traffic jams. By augmenting their existing real-time traffic solution with the new service, HERE greatly increases the competitiveness of its traffic offering.
HERE Hazard Warnings: The real-time hazard warning service represents the safety potential of the connected car data sharing approach. Road hazards can be effectively correlated to specific sensor events and used to keep road users informed about ongoing hazardous road situations. For example, widespread activation of ESC systems is a likely indicator of ice on the road, while activation of a number of fog lights in a certain area of the road network would suggest poor visibility in that location. In the future, this data could be incorporated into the path planning of a semi-autonomous or autonomous system. In the meantime, while drivers are still responsible for piloting a vehicle, the automatic nature of this hazard-related data sharing is key. Although there are some examples of the data sharing approach based on manual user input, hazardous situations demand that the driver's attention be focused solely on the road.
HERE Road Signs: This service uses embedded sensors to capture data relating to permanent and dynamic traffic signage, keeping the driver up to date. Furthermore, this data could be used to improve the functionality of two ADAS: intelligent speed assist (ISA) and adaptive cruise control (ACC), in both cases helping the driver to comply with the current rules of the road more easily.
HERE On-Street Parking: HERE's connected parking service will initially employ historical probe and connected sensor data to provide parking space suggestions that are statistically more likely to be available according to the time of day. This will be of considerable value to the end user, particularly as navigation systems continue their shift towards providing guidance to parking close to the final destination, rather than strictly providing directions to the destination itself. Going forward, there is a propensity for connected vehicles to provide a real-time indication of parking space availability as they roam around the road.
It's clear that the value proposition of a live road depiction giving a real-time appreciation of traffic flow, ongoing safety hazards, and parking space utilization is of particular relevance to government-level stakeholders, as well as OEMs. This crowd-sourced data could play a vital role in helping local authorities develop transport systems that improve safety and overall efficiency.
| | |
| --- | --- |
| Collaboration as the Key to Enabling Unique Connected Services | COMMENTARY |
---
HERE's Open Location Platform sits at the epicenter of the two most prevalent automotive megatrends: active safety/ADAS and embedded connectivity.
Active safety has seen an increasing number of sensors embedded in vehicles to enable autonomous obstacle detection and collision avoidance. With active safety systems being widely deployed on numerous model types in order to satisfy the testing requirements of rating agencies such as NCAP and the IIHS, ADAS has begun transitioning from brand differentiator to homogenous commodity.
Meanwhile, embedded connectivity has begun to play a more prominent role in core vehicle functions, enabling OTA updates and supporting life cycle management. Nevertheless, the overwhelming number of use cases for embedded connectivity has been related to connected infotainment, enabling 'superficial' functions such as Wi-Fi hotspots, multimedia streaming, and connected navigation.
However, it is the combination of these two megatrends that will be key to opening up new, differentiated connected car services built on rich sensor data, which not only add to driver convenience, but also contribute to improving safety and efficiency, and ultimately vehicle automation. These services depend on a certain critical mass of connected, sensor equipped vehicles, and HERE has correctly identified cooperation across OEMs as the only viable way to achieve that scale. There simply is not one OEM big enough to deliver customers the kind of services described above on their own, despite previous attempts by Volvo (ice on the road information service trial) and PSA (in partnership with IBM).
Although automotive OEMs may not be renowned for their ability to cooperate, the fact that Audi, BMW, and Mercedes-Benz – three direct and fierce competitors – have agreed to work together to bring better user experiences for their customers is very promising and a first in the automotive industry. Furthermore, HERE has been careful not to conflate consortium membership and participation with the Open Location Platform, making it much easier for OEMs and others to engage in the data sharing paradigm. This results in multiple options for car OEMs, either simply buying HERE's services or contributing to the community sensor data crowdsourcing effort and benefiting from more favorable conditions.