SK Telecom throws down the IoT gauntlet with a nationwide LoRa deployment. More importantly, they publish list prices for IoT data plans that are an order of magnitude lower than consumer 4G plans. This argues that 3GPP NB-IoT operators will face many challenges to match LPWAN tariffs for the many billions of IoT devices in the near future. This Insight looks into the data tariffs and compares LPWAN IoT and 4G LTE, with a suggested strategy for NB-IoT to thrive in the LPWAN world.
Registered users can unlock up to five pieces of premium content each month.
| | |
| --- | --- |
| SK Telecom Launches Nationwide LoRa Network for IoT | NEWS |
---
On July 4, the press release read: SK Telecom Commercializes Nationwide LoRa Network for IoT. SK Telecom noted 99% nationwide coverage with LoRa, and more importantly, announced reference tariffs for LoRa IoT. These IoT service tariffs are much lower than mobile broadband 4G LTE, according to Biz T World. A straightforward comparison is difficult, as the mobile broadband subscription price includes home phone, unlimited voice and text, free live TV, and other offerings found in consumer plans. Even so, there is a lot we can deduce about the future of NB-IoT tariffs in the midst of the LPWAN world. Announced LoRa pricing ranges from 350 KRW for 100 Kbyte / month to 2000 KRW for 100 Mbyte / month. These price anchors have a significant implication for 3GPP NB-IoT, namely that LPWAN are the price makers, while 3GPP NB-IoT operators will be price takers.
| | |
| --- | --- |
| Making vs. Taking the Price | IMPACT |
---
SK Telecom sets up the market price for IoT service with extremely low data tariffs when compared with the 4G LTE mobile broadband. The chart below shows the tariffs set for the SKT LoRa service (blue), which, when plotted on a log-log graph, shows that the result is a mathematically-based, usage-based tariff. The green triangles represent the bundled SKT Mobile Broadband consumer tariffs. The green squares with X are an extrapolation of mobile broadband to 100 Kbyte per month and for comparison.
Here are several comments and things we can learn from these curves:
SKT priced LoRa about 1/10 of consumer mobile broadband.
Mobile Broadband package includes many features that are not suitable for IoT.
The slopes of the curves are nearly the same, indicating that the marginal Price / Mbyte is mathematically consistent.
The mobile broadband extrapolation shows the 10x tariff difference holds in this model, with lower-left X Axis representing 0.1 Mbyte / Month.
IoT tariffs conveniently do not overlap with mobile broadband tariffs in MB / Month.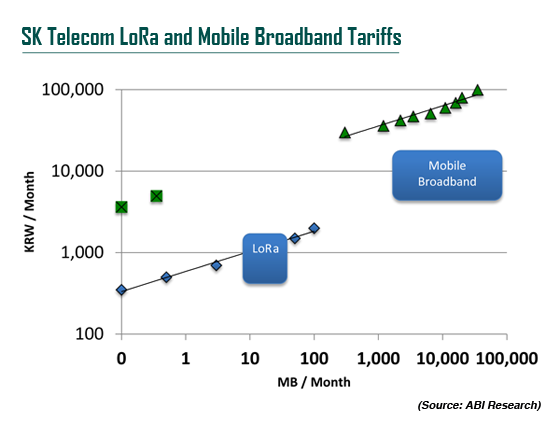 | | |
| --- | --- |
| With This Cost Disadvantage, what can 3GPP NB-IoT Deliver? | COMMENTARY |
---
With mobile broadband tariffs appearing ten times greater here, it is clear that the business model for NB-IoT must differ dramatically from mobile broadband. Otherwise, the mobile operator should reconsider its IoT aspirations. The same consideration also applies for the 5G massive machine type communication use cases that are low on data traffic demands.
Mobile operators will have to price NB-IoT in the presence of the LPWAN market, but based on the marginal revenue it delivers. The LTE infrastructure is already deployed, so the cost to deliver NB-IoT is a software upgrade. The case for NB-IoT now becomes an accounting issue of allocating infrastructure fixed costs and corporate overhead. Operators can be sure that the IoT will not support mobile broadband-like tariffs, but should consider that costs to deploy NB-IoT are largely software.
The presence of LPWAN networks defines the price point at which NB-IoT and any other solutions seek to serve Internet of Everything markets, and the chart above shows us that the 10x tariff premium enjoyed by mobile broadband applied to IoT is unsustainable. Operators understand this in their years of using their 2G, 3G, and 4G networks for M2M and IoT services. However, what the data quantitatively shows is that they must differentiate and position IoT and Mobile Broadband services carefully. What has to happen, is that 4G LTE mobile broadband pays the freight for the networks, and NB-IoT becomes the extra kicker for profitability.
It could be argued that mobile telecom operators should take the initiative and claim the markets with non-3GPP LPWAN solutions now, as it is better to risk a potentially sub-optimum technology choice than miss large portions of the IoT market. Certainly, LoRa has been gaining traction as an optimal choice for serving IoT application markets with LPWA needs. Operators should look to the infrastructure vendors to provide them with a solution allowing easy integration of the LPWAN networks into their 4G LTE core networks. This is a reasonable solution with precedent, as in the early days of femtocells, the leading infrastructure vendors offered a femtocell agnostic control kit. Taking this approach to IoT, the mobile network operators and their infrastructure vendors can assimilate the LPWAN markets.