ABI Research market data strongly suggests that an argument for the entire industry learning curve applies to pricing for 5G, and that historical hints provide clues to where 5G pricing will lead. As cumulative industry learning continues, many services will be too cheap to meter. We present the effective industry learning price curve from 2G through 5G and what you can expect with 5G. For some services, the price will be too cheap to meter.
Registered users can unlock up to five pieces of premium content each month.
| | |
| --- | --- |
| ABI Research Publishes Our View on 5G | NEWS |
---
ABI Research published its analysis of 5G (5G: From Vision to Framework) on December 30, 2015, just in time for your New Year's reading enjoyment. We trace the development of cellular over the last 10 years through today's mobile broadband, and look to the future for what we can expect with 5G. One particular insight comes from ABI Research's vast record of historical market data (available in the Network Market Tracker service) and the evolution of data price trends. A strong argument can be made that the entire industry learning curve from the days of 2G through today's 4G and LTE-A provide the clues to where 5G pricing is headed. As cumulative industry learning continues, many services will be too cheap to meter. We present the effective price curve for data traffic (but not voice or messaging) with industry data revenues vs. cumulative data traffic.
| | |
| --- | --- |
| How Does History Guide Us? | IMPACT |
---
We took a look our historical data for both total data traffic and total revenues on a regional basis and then examined the effective cost per gigabyte as a function of cumulative traffic in gigabytes to study the industry trends. Cumulative data traffic is important as that captures the maturity of industry as it progresses through the technology evolution through 4G. The cumulative data reflects the effects of network build-out, densification, competitive pressures and technology evolution.
In each region we see nearly a straight line when the year's average $/Gbyte is plotted against log10 (Cumulative Gbytes). Shown in the figure below is the data curve for Western Europe; other regions look similar, with different slopes and starting points. The line shows a definite linear shape – when plotted using a log10 horizontal axis. This just means that a textbook learning curve is at work. The blue points are the existing technology evolutions through 4G, while the red dots indicate continued traffic growth supported by 5G-mmW technologies after 2020. The undulations are also significant, as they indicate when a next generation technology displaces a legacy technology. Dots below the line suggest increasing competition and mature conditions, while the dots above the line suggests the transitional new technology begins to push down the learning curve and back under the line.
On a $/Gbyte basis we can reasonably predict 5G revenues and pricing. Note that these are effective prices, not an advertised price plan, since many subscribers don't exceed their plan quotas. Also, other factors, such as price promotions, package deals, or flat rate pricing ($10 / unlimited Gbytes = $0 / Gbyte) are but noise when considering the long-term trend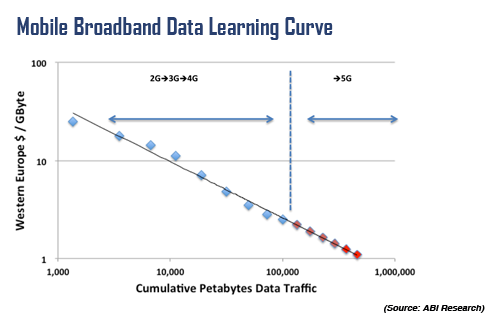 | | |
| --- | --- |
| What Does This Mean for the Future of Telecom? | COMMENTARY |
---
By now we must all realize the widely presented "Scissor Diagram" of flattening revenue and exponentially growing data traffic is but a cliché, and not at all helpful for operator plans. Of course, every vendor will propose their hardware and software offerings as a solution to the problem, but the fact remains that the price of data is heading down, down, down. Operators would like to see the blue dots take a sharp hockey-stick turn at 5G and hold the $/Gbyte, but that is just not going to happen. I think the wise operator will take note of this progression and come up with a strategy to cope with, if not profit from, this price trend.
Does this mean 5G traffic will be too cheap to meter? For some use cases, yes it does. We already have that scenario with 4G networks as we have, in many cases, unlimited voice and text messaging traffic. With data plans running in the tens of gigabytes per month, it hardly makes sense to meter text messaging of 140 characters each, though that was outstanding profits for operators when they could get US$0.20 for those 140 characters. T-Mobile's "Binge On" video service reduces the marginal cost of those video bytes to $0, partly by reducing the traffic load with 480p resolution. This would not be worth metering on a 5G network. Where do you think this will end up with 5G, and do you think the historical trend identified above won't continue? Just for fun, calculate the price of a $0.20, 140-character text message from a few years ago in $/Gbyte to grasp how things have changed and will continue to change with 5G.
Operators will have to adjust their pricing policies for 5G, especially during the transition time. With such high data rates everywhere, operators will have to adjust their policy tools (the PCRF and PCEF) to account differently for bytes delivered when a subscriber is on a 5G network. Otherwise, there will certainly be a lot of calls on bill shock when a subscriber whacks the data plan limit during the first few moments on the 5G network.