Has your company recently entered a new market, and you are not sure of the main players — or those who are dark horses?
ABI Research's Competitive Assessment reports offer comprehensive analysis of implementation strategies and innovation, coupled with market share analysis, to offer insight into a company's performance and standing in comparison to its competitors.
These reports, which often include easily absorbed charts and tables, may cover a dozen or more companies. They also provide a detailed explanation of the rankings, including an Executive Summary, and the Vendor Matrix Results that clearly indicate the Market Leaders, Followers, and the Laggards. Additional content may include Innovation Criteria, Implementation Metrics, and Market Shares.
Regardless of your transformative technology interest, ABI Research does provide a free sample PDF of a Competitive Assessment report, which includes the first couple of pages of the Competitive Assessment. Just complete the brief form to download the Competitive Assessment sample.
If you wish to receive the full Competitive Assessment report, which is more than 30 pages, click the "Request Full Research" button at the top of the brief sample PDF, and a Sales representative will follow up with you. Or, Contact Sales directly.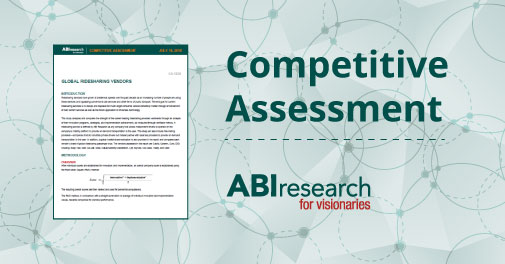 Additive Manufacturing and Generative Design Put Manufacturing Operations Management in the Spotlight as Hybrid Manufacturing Heats Up
By 2030, the number of production-ready additive manufacturing platforms that ship each year will increase more than tenfold (more than US$325 billion in hardware and related systems revenue). These systems will produce more than US$360 billion worth of parts and end products each year (up from US$6.8 billion today) and nearly US$2 trillion in sum by the end of the next decade (MD-AMMT-101). These systems will need to work with the ones that came before them. Today, most do not.
The field of Manufacturing Operations Management (MOM) is, like the systems it supports, evolving from manufacturing execution (data acquisition) to digitalization (data synchronization and contextualization) and, soon, higher levels of intelligence (data augmentation). Companies like PTC, which acquired Frustum at the end of 2018 (after the US$1 Billion Rockwell tie-up) and Siemens, which acquired low-code developer Mendix on the heels of its of Mentor Graphics pickup (in 2018 and 2017, respectively), have started to show their cards, and there are several key takeaways the industrial industry must heed.

Ryan Harbison
Research Analyst

The Latin America cellular M2M market will grow to 71.3 million connections by 2023, but few Mobile Network Operators (MNOs) have implemented successful monetization strategies according to a new report by ABI Research, a market-foresight advisory firm providing strategic guidance on the most compelling transformative technologies. Latin American operators must develop new business models and move up the value stack in their solution offerings beyond just providing connectivity to drive the market forward and capture value.

"While there is a US$1.1 billion opportunity on the horizon for total IoT solution revenues, Latin American operators still lack a clear strategy of where they want to fit in the overall value chain," said Ryan Harbison, Research Analyst. "These solutions require a B2B mindset and operators are fixed on B2C due to an overly saturated and competitive mobile market. Additionally, M2M connections currently represent 5% of total connections and only 1% of revenues across the region, so for most operators, the revenue per connection isn't where it needs to be to justify increasing their M2M investments and engagements." Read more.
Emanuel Kolta
Research Analyst

The race for the leading role in the fifth generation (5G) connectivity has already started and while the United States, China, South Korea, and Japan are the four countries in the lead, it is the United States who will win the 5G race in the short term, according to ABI Research.

The United States has a unique 5G starting position due to its market size, the financial health of its Mobile Service Providers (MSPs), and the forward-looking moves of the Federal Communications Commission (FCC). "The United States has a stronghold because its carriers have an enhanced fiscal position — they will spend approximately US$40 billion on network infrastructure alone during 2019," says Emanuel Kolta, Research Analyst. Read more.
The Nest in my son's room was acting weird. Here's what I did next
CNN Business
"Companies need to ensure consumers are buying products they feel are secure and protected," said Jonathan Collins, research director and smart home analyst at ABI Research. "That can take a whole range of issues like educating users or better management of devices or putting more details into the app about how the camera is operating." Read the full article.
Digital Transformation in the Industrial Sphere
Manufacturing Tomorrow
In support of ABI Research's recently launched Industrial Solution, Chief Research Officer Stuart Carlaw shared his thoughts on digital transformation's emergence in the industrial market during an interview with Manufacturing Tomorrow. Topics also covered were challenges companies will look to overcome, the technologies most closely associated with digital transformation, and how our Industrial Solution can help companies lean in to digital transformation. Read the full interview.
3rd World eSIM Summit
Feb. 7, 2019 - Feb. 8, 2019
Brussels, Belgium
Event Website

2nd Blockchain and Smart Contracts Summit
Feb. 14, 2019 - Feb. 15, 2019
Berlin, Germany
Event Website

Cyber Intelligence Asia 2019
Feb. 26, 2019 - Feb. 28, 2019
Bangkok, Thailand
Event Website

Blockchain Summit Hong Kong
Feb. 27, 2019 - Feb. 28, 2019
The Mira, Hong Kong
Event Website

RISC-V Workshop
March 12, 2019 - March 13, 2019
Hsinchu City, Taiwan
Event Website

4th Smart Manufacturing Summit
March 21, 2019 - March 22, 2019
Barcelona, Spain
Event Website

Blockchain Summit Frankfurt
March 25, 2019 - March 26, 2019
Kap Europa, Frankfurt
Event Website

FutureNet World
March 26, 2019 - March 27, 2019
London, UK
Event Website
Speakers:
Dimitris Mavrakis

SGTech Europe 2019
March 26, 2019 - March 28, 2019
Amsterdam, The Netherlands
Event Website

11th Green Vehicle Convention
March 28, 2019 - March 29, 2019
Beijing, China
Event Website
About ABI Research
ABI Research provides strategic guidance for visionaries needing market foresight on the most compelling transformative technologies, which reshape workforces, identify holes in a market, create new business models and drive new revenue streams. ABI's own research visionaries take stances early on those technologies, publishing groundbreaking studies often years ahead of other technology advisory firms. ABI analysts deliver their conclusions and recommendations in easily and quickly absorbed formats to ensure proper context. Our analysts strategically guide visionaries to take action now and inspire their business to realize a bigger picture. For more information about subscribing to ABI's Research Services as well as Industrial and Custom Solutions, visionaries can contact us at +1.516.624.2500 in the Americas, +44.203.326.0140 in Europe, +65.6592.0290 in Asia-Pacific or visit www.abiresearch.com.