ABI Research would like to thank you for your support, and wish you continued success and prosperity in 2019. Please note that the Analyst Insider will resume on Wednesday, January 2. Happy holidays!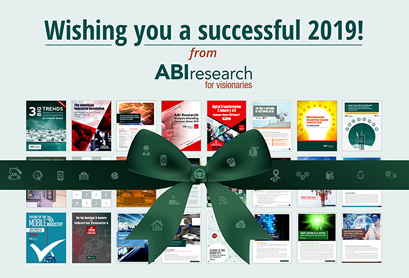 Nine ABI Research analysts will be in attendance at CES 2019, from January 8-11, with several of our research services represented. They will be available for press interviews, business meetings, or to answer your most pressing questions that can help your business strategy for next year and beyond. The analysts, and their areas of research, are:

MSPs Will Lose New Opportunities Unless They Change Their Market Perspective
Mobile Service Providers (MSPs) are at a turning point in their history. On the one hand, most MSPs have widely accepted that in recent years they have failed to lead the market and capture new, emerging opportunities resulting from the data explosion and the digitization of customers. On the other hand, changing macrotrends in the form of regulations and new technology development seem to be opening new doors for MSPs bold enough to target new revenues.
Despite their large ambitions, many MSPs are still tied to their traditional processes and models, even though new digital and enterprise vertical opportunities are appearing. As time is crucial to seizing these new emerging opportunities, MSPs must transform their views and attitude, understand the strengths and weaknesses of their assets, and acquire a better understanding of future markets. MSPs must look at the market not as a telcos but as digital providers.

Ryan Harbison
Research Analyst

As the video surveillance industry continues its transition toward IP camera systems with edge and on-device analytics capabilities, solution providers continue to offer connected products and services with vastly stronger value propositions than traditional, legacy analog systems. As a result, ABI Research forecasts that enterprise video surveillance camera connections will top 348 million by 2023 and that these systems will generate value-added services revenues of US$12 billion.

"Success within IoT is largely dependent on the ability of providers to create highly specialized, value-added solutions based upon clearly defined use cases supported by market demand," said Ryan Harbison, Research Analyst. Read more.
Eleftheria Kouri
Research Analyst

2018 was a significant year for Augmented Reality (AR) with new entrants in the market, new smart glasses launched, new and improved platforms and portfolios, and generally more enthusiasm and curiosity from the public to explore the technology. Despite that technical challenges and budget limitations remain an issue for near future mass adoption, the total AR market will be worth US$116 billion by 2023, finds ABI Research. Technological advancements, the growth of mobile AR, more proof of concept use cases, and audience acceptance are the main factors that will lead to this booming growth.

"New entrances across hardware and software, along with expanding incumbents, are reshaping the AR landscape, providing more opportunities for customers and developers," said Eleftheria Kouri, Research Analyst. Read more.
The Use Cases of Quantum Computing Are Key to Countries' Next-Generation Economic Curve and Global Leadership (by ABI Research's Malik Saadi)
Money Inc.
Why are advanced nations investing heavily in quantum computing? Simply because this technology will enable them to stay ahead in terms of R&D advances, which will in turn allow them to lead the deployment and commercialization of cutting-edge technologies in the future.
For this reason, quantum computing represents a tremendous opportunity for hyper-scale processing service providers and technology makers that are currently looking at upgrading facilities using quantum technology to support new use cases that would not be possible using classical computers. ABI Research has investigated the role quantum technology will play in transforming the cloud business, particularly in hyper-scale computing. Read the full article.
Will XI Jinping's Dream of Becoming the Global AI Leader Turn into Reality?
Entrepreneur
"2017 had been a great year for China," admits principal analyst of ABI Research, Lian Jye Su. He adds, "But most investments were focused only on a few successful startups, such as Bytedance, Sensetime, Face++, Cambricon Technologies and Horizon Robotics. As the industry continues to figure out new use cases and business models, the AI investment sentiment has become less based on hype and more on careful analysis of business models and use cases." Read the full article.
Consumer Telematics Show
Jan. 7, 2019 - Jan. 7, 2019
Las Vegas
Event Website
Speakers:
Dominique Bonte

india m2m + iot forum
Jan. 14, 2019 - Jan. 15, 2019
New Delhi, India
Event Website

4th Annual China Automotive Cyber Security Summit 2019
Jan. 24, 2019 - Jan. 25, 2019
Shanghai, China
Event Website

Energy Intrusion Detection
Jan. 29, 2019 - Jan. 31, 2019
Amsterdam, The Netherlands
Event Website

The 2nd Telematics ASEAN Summit 2019
Jan. 30, 2019 - Jan. 31, 2019
Pullman Bangkok Grande, Thailand
Event Website

3rd World eSIM Summit
Feb. 7, 2019 - Feb. 8, 2019
Brussels, Belgium
Event Website

2nd Blockchain and Smart Contracts Summit
Feb. 14, 2019 - Feb. 15, 2019
Berlin, Germany
Event Website

Cyber Intelligence Asia 2019
Feb. 26, 2019 - Feb. 28, 2019
Bangkok, Thailand
Event Website

Blockchain Summit Hong Kong
Feb. 27, 2019 - Feb. 28, 2019
The Mira, Hong Kong
Event Website

RISC-V Workshop
March 12, 2019 - March 13, 2019
Hsinchu City, Taiwan
Event Website
About ABI Research
ABI Research provides strategic guidance for visionaries needing market foresight on the most compelling transformative technologies, which reshape workforces, identify holes in a market, create new business models and drive new revenue streams. ABI's own research visionaries take stances early on those technologies, publishing groundbreaking studies often years ahead of other technology advisory firms. ABI analysts deliver their conclusions and recommendations in easily and quickly absorbed formats to ensure proper context. Our analysts strategically guide visionaries to take action now and inspire their business to realize a bigger picture. For more information about subscribing to ABI's Research Services as well as Industrial and Custom Solutions, visionaries can contact us at +1.516.624.2500 in the Americas, +44.203.326.0140 in Europe, +65.6592.0290 in Asia-Pacific or visit www.abiresearch.com.