Microsoft ranked as the leading Blockchain-as-a-Service platform, followed closely by IBM, announced ABI Research in its latest competitive assessment.
The report ranked 11 vendors currently competing in the BaaS space: Alibaba, Amazon, Baidu, Cisco, HPE, Huawei, IBM, Microsoft, Oracle, SAP, and Tencent, based on ABI Research's proven innovation/implementation criteria framework. Each vendor was analyzed on innovation metrics such as market penetration, proof of concepts and pilots, and ecosystem support, and implementation metrics such as platform diversity, primary features, developer resources, and integration with their own solutions. IBM, marginally ahead in terms of innovation, was a close second. Both firms are a league ahead of other vendors in terms of their BaaS offerings.
"The advent of cloud offerings in the space shows that blockchain technology is ripe for productization. Microsoft and IBM are capitalizing on the numerous proof of concepts and pilots that have been tested on their platforms in the last 2 years, the first of which are already being commercialized," said Michela Menting, Research Director. "While IBM has some of the more advanced pilots to date, Microsoft leads on the implementation front, with a broad range of platform choices and deep integration with its existing cloud services." Read the full press release.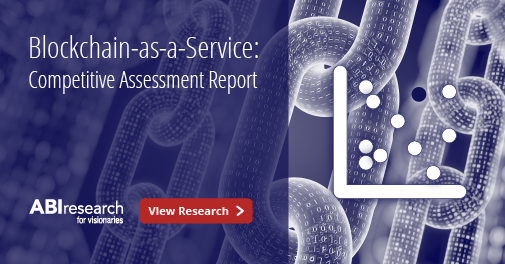 AI in Telecoms - Bounded Rationality or Wider Ecosystem Game Changer?
ABI Research's recent study of how Artificial Intelligence (AI) is being implemented in the telecoms industry underscores the fact that the ownership and technology architecture of the AI ecosystem is largely fragmented (PT-2184). With almost half of all commercial activities we tracked falling under customer management, much of the action in AI is around intelligent user interfaces, sales, and marketing. These findings highlight how AI is unfolding in the market; namely, on a per use case, per domain basis—a natural development given the monolithic environments in telecoms. The benefits that come from a narrow AI adoption notwithstanding, a harmonized AI platform may be required to enable a wide-ranging and scalable business case (AN-2557).

Dominique Bonte
Vice President, Verticals/End Markets

While a lot of the debate around smart cities has been centered on how to digitize infrastructure through a range of connectivity and IoT technologies, little attention has been given to the urgent issue of redefining public space itself to cope with new tech-driven paradigms like the sharing economy, automation, and more generally the new smart urban economy.

"Parking is one of the most obvious examples of how smart mobility technology, driverless car sharing in particular, will transform how the public space is organized," says Dominique Bonte, Vice President End Markets at ABI Research, which estimates around 50% percent of parking real estate will have been repurposed by 2040, the equivalent of more than 20,000 square km of surface land. Read more.
Andrew Zignani
Senior Analyst

802.11ax or Wi-Fi 6 chipsets are forecasted to break the 1 billion annual shipments barrier by 2022 just three years after the first commercial deployments expected for 2019, according to ABI Research. Technology adoption of Wi-Fi 6 will be driven predominantly by the smartphone market as it transitions away from 802.11ac beginning in 2019. However, significant adoption is not expected to happen until 2020, once the standard is fully ratified and becomes increasingly leveraged in flagship devices from key smartphone vendors.

"Wi-Fi 6 pre-standard chipsets are readily available from a number of vendors including Broadcom, Qualcomm, Marvell, Quantenna, Intel, and Celeno," said Andrew Zignani, Senior Analyst. "Enormous growth in Wi-Fi-enabled devices, increased per-user traffic demand, greater number of users per Access Point (AP), increased cellular offloading, higher density Wi-Fi deployments, growing use of outdoor Wi-Fi, heterogeneous device and traffic types, and a desire for more power and spectral efficiency are all major driving forces behind 802.11ax's introduction. As a result, Wi-Fi 6 is already seeing strong traction in networking and enterprise applications due to its ability to enhance performance in dense environments."
Toyota is Using Microsoft's HoloLens to Build Cars Faster
CNN Business
Eric Abbruzzese, an augmented- and virtual-reality analyst with ABI Research, expects more than 2 million headsets and smart glasses will ship this year. Most of that market is made up of businesses still testing the technology. Abbruzzese predicts it will grow to 29 million by 2023.
"Toyota can then make a very informed decision about how well this can scale, and [determine] the return on investment," he said. Read the full article.
BIMWorld Munich
Nov. 27, 2018 - Nov. 28, 2018
Munich
Event Website

Trustech
Nov. 27, 2018 - Nov. 29, 2018
Cannes, France
Event Website

Connected Fleets USA
Nov. 27, 2018 - Nov. 28, 2018
Atlanta, GA
Event Website
Speakers:
Susan Beardslee

IoT Tech Expo North America
Nov. 28, 2018 - Nov. 29, 2018
Silicon Valley, Santa Clara
Event Website
Speakers:
Dan Shey, Ryan Martin

Cyber Security & Cloud Expo
Nov. 28, 2018 - Nov. 29, 2018
Silicon Valley, Santa Clara
Event Website

AI & Big Data Expo North America
Nov. 28, 2018 - Nov. 29, 2018
Santa Clara, CA
Event Website
Speakers:
Ryan Martin

Distributed Energy Resources: Digitization & IoT
Nov. 28, 2018 - Nov. 29, 2018
Berlin, Germany
Event Website

Applied AI Houston
Nov. 29, 2018 - Nov. 30, 2018
Houston
Event Website

Intelligent Automation
Dec. 3, 2018 - Dec. 6, 2018
Austin, Texas
Event Website

Securing Digital ID 2018
Dec. 4, 2018 - Dec. 5, 2018
Virginia, USA
Event Website
About ABI Research
ABI Research provides strategic guidance for visionaries needing market foresight on the most compelling transformative technologies, which reshape workforces, identify holes in a market, create new business models and drive new revenue streams. ABI's own research visionaries take stances early on those technologies, publishing groundbreaking studies often years ahead of other technology advisory firms. ABI analysts deliver their conclusions and recommendations in easily and quickly absorbed formats to ensure proper context. Our analysts strategically guide visionaries to take action now and inspire their business to realize a bigger picture. For more information about ABI Research's forecasting, consulting and teardown services, visionaries can contact us at +1.516.624.2500 in the Americas, +44.203.326.0140 in Europe, +65.6592.0290 in Asia-Pacific or visit www.abiresearch.com.