We are at two crossroads. The first is centered around fundamental operational realities that are beginning to take hold in many markets, combined with the notion that traditional methods for alleviating these accumulating pressures are proving less than optimal. Technology is being positioned as the force multiplier that will solve these issues.
The second crossroad is centered around the outlook and fortunes of companies that supply technologies and technology-based services. The rapid growth of many of these companies was built around the consumer market or founded on IT and is now plateauing.
Our second annual 3 BIG Trends Impacting the Most Compelling Transformative Technologies: 19 1-Minute Reads whitepaper will provide a first step in giving more clarity on technological choice, business application relevancy, and investment priority.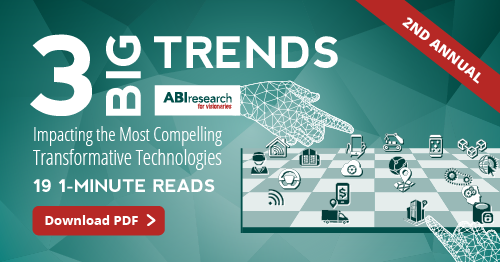 Public Cloud Vendors Getting Into Cloud Robotics Game
As one of the market leaders in public cloud platforms and AI, Google has demonstrated its ability to identify technological trends and deliver with great execution and implementation. Google is one of the early proponents of cloud robotics platforms, as they introduced the idea as early as 2012. However, the industry has been taking a long time to warm up to cloud robotics. Thanks to the advancement in cloud computing, several startups — such as CloudMinds, Neurala, Vicarious Systems, and Tend.ai — have started to push for the mass adoption of cloud robotics in recent years. While these startups have achieved some degree of success, the industry at large still has some reservations about cloud robotics technology.

Khin Sandi Lynn
Industry Analyst

The ability to offer a better quality of service and a richer user experience is increasingly important for pay-TV and broadband operators to differentiate their services. ABI Research has identified that the Virtual Customer Premises Equipment (vCPE) platform will become the future of connected home solutions that will enable service providers to offer advanced services to residential customers more efficiently.

"The implementation of vCPE solutions utilizing Network Functions Virtualization (NFV) and Software-Defined Networking (SDN) allows service providers to shift some of the functions of CPE onto the edge or cloud, enabling service providers to save on hardware costs by deploying low-cost CPE at the customers' site. Better visibility of home networks, device level management, and the rapid deployment of new services are also enabled by a vCPE platform," says Khin Sandi Lynn, Industry Analyst. Read more.
Don Alusha
Senior Analyst

Orchestration architectures that provide end-to-end visibility remain an important cornerstone for Mobile Service Providers (MSPs) as they shift to a hybrid and digital future mode of operations, according to a report from ABI Research. A nimble way of transacting business is eventually going to set the clock speed for MSPs. Therefore, an orchestration hierarchy that breaks down isolated system architectures is a "must-have" to bring the speed and convenience that will drive competitive success.

Don Alusha, Senior Analyst said, "Vendors should aim to enhance total system properties and design their solution(s) with a 'go for the good of the whole' mindset. This will require a strategy shift from domain-specific orchestration products to wholesale approaches." Read more.
Date: Nov. 13, 2018, 2:00 p.m. ET
ABI Research has identified the most important Smart Manufacturing technologies, solutions and strategies for the automotive sector. In many respects, this industry leads the way in adopting innovations within the manufacturing sector. This webinar will provide a framework and strategic guidance for Smart Manufacturing vendors to increase adoption rates in the automotive industry.
Holistic Platforms, Not One-Offs, Are Key to AI Success
Fierce Telecom
Development and adoption of AI must be done in a systematic and unified manner across managed service providers' (MSPs') departments and initiatives, according to ABI Research.
"AI adoption is focused on narrow use cases whereby telcos are aiming to tackle specific pain points," said Senior Analyst Don Alusha. "We argue that AI suppliers must enable an adoption roadmap wherein use case specific actions taken now yield short term desired outcomes, but also have an effect that radiates out for years to come towards a wider AI stratagem." Read the full article.
Smart Manufacturing's Balancing Act Between Edge and Cloud Computing
The Association for Manufacturing Technology
Smart manufacturing revenue will grow substantially during the next eight years, from $4.5 billion this year to $51.5 billion in 2026.
This growth will hit all the revenue segments — including security, device and application platforms, connection, data and analytics, and networks — except for professional services revenue, which will drop from 31 percent this year to 13 percent in 2026. Read the full article.
Future Mobility 2018
Nov. 7, 2018 - Nov. 8, 2018
Abu Dhabi
Event Website

E-Mobility & Charging Infrastructure Forum
Nov. 7, 2018 - Nov. 8, 2018
Berlin, Germany
Event Website

BIMWorld Munich
Nov. 27, 2018 - Nov. 28, 2018
Munich
Event Website

Trustech
Nov. 27, 2018 - Nov. 29, 2018
Cannes, France
Event Website

Connected Fleets USA
Nov. 27, 2018 - Nov. 28, 2018
Atlanta, GA
Event Website
Speakers:
Susan Beardslee

IoT Tech Expo North America
Nov. 28, 2018 - Nov. 29, 2018
Silicon Valley, Santa Clara
Event Website
Speakers:
Dan Shey, Ryan Martin

Cyber Security & Cloud Expo
Nov. 28, 2018 - Nov. 29, 2018
Silicon Valley, Santa Clara
Event Website

AI & Big Data Expo North America
Nov. 28, 2018 - Nov. 29, 2018
Santa Clara, CA
Event Website
Speakers:
Ryan Martin

Distributed Energy Resources: Digitization & IoT
Nov. 28, 2018 - Nov. 29, 2018
Berlin, Germany
Event Website

Applied AI Houston
Nov. 29, 2018 - Nov. 30, 2018
Houston
Event Website
About ABI Research
ABI Research provides strategic guidance for visionaries needing market foresight on the most compelling transformative technologies, which reshape workforces, identify holes in a market, create new business models and drive new revenue streams. ABI's own research visionaries take stances early on those technologies, publishing groundbreaking studies often years ahead of other technology advisory firms. ABI analysts deliver their conclusions and recommendations in easily and quickly absorbed formats to ensure proper context. Our analysts strategically guide visionaries to take action now and inspire their business to realize a bigger picture. For more information about ABI Research's forecasting, consulting and teardown services, visionaries can contact us at +1.516.624.2500 in the Americas, +44.203.326.0140 in Europe, +65.6592.0290 in Asia-Pacific or visit www.abiresearch.com.