DATE: Wednesday, January 27
TIME: 10:00 a.m. EST/15:00 p.m. GMT
Today, there are 840 million cellular IoT devices active worldwide. By 2026, there will be 5.7 billion – an increase of nearly 700 percent. Given this tremendous growth, it is clear that the ability to connect diverse IoT device types, with different needs, at massive scale, and with global coverage, is urgently needed.
This webinar will examine the role that Connectivity Management Platforms (CMPs) and global connectivity coverage solutions play in accomplishing this task. It will also examine the evolving needs of operators and enterprises, and the challenges faced by traditional connectivity management services.
SPEAKERS:
Jamie Moss, Research Director - ABI Research
Dan Shey, Vice President of Enabling Resources - ABI Research
Nir Shalom, Chief Executive Officer - floLIVE
Analyst Insider Subscribers can view one free Insight every week. For full access, talk to our team.
Tower companies can diversify revenue streams by utilizing their distributed real estate for edge cloud data center deployments, and recent industry activity has reflected the efforts of various tower companies in fortifying their edge data center capabilities.
Unlock this ABI Insight
Currently, healthcare systems are better suited for health insurance providers; however, with the use of IoT solutions these systems can become better suited for patients instead.
Unlock this ABI Insight
In these earlier days, the cloud is often praised for its scalability and promise of efficiencies, but in time the cloud will engender more significant changes in how companies find their employees and the way work is done.
Unlock this ABI Insight
As the world moves toward a majority polycarbonate data page for the passport, the tipping point will largely be decided by passport heavy countries such as the United States.
Unlock this ABI Insight
What will define the new era will be key initiatives developed through 2020 that will provide the bedrock for a transformation of the smart home market throughout the decade.
Unlock this ABI Insight
Although satellite broadband services cover almost 100% of rural areas, adoption is limited to sparsely populated areas where other fixed broadband services cannot reach.
Unlock this ABI Insight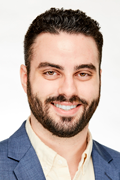 While the COVID-19 pandemic crippled some markets, it also presented notable opportunities to others. Similar to the uptick products like Zoom and Microsoft Teams have seen, Augmented Reality (AR) has been forced into opportunity around remote worker enablement, compounding the already strong growth seen in the enterprise thanks to high-value use cases like remote assistance, training, and workflow instruction. Combine this with an increasingly viable consumer AR market over the next few years, the market potential is significant. ABI Research estimates the augmented reality market will surpass US$140 billion in total market value in 2025.
"While enterprise usage has dominated the augmented reality conversation over the past few years, the tides are shifting. All of the tech companies that can shift markets on a global scale are directly involved in AR already, and many are planning more dedicated AR hardware efforts over the next two to three years," says Eric Abbruzzese, Research Director for ABI Research.
Read more.
Banning Chinese vendors from Western countries' 5G deployments on the grounds of alleged equipment security concerns will have a detrimental effect on 5G rollouts and technology evolution for the years to come. According to ABI Research, excluding Huawei from deployments will delay the 5G rollout by several years and burden network operators with additional costs of several billion dollars to replace existing infrastructure.
"Our research shows that banning Huawei and ZTE from 5G deployments and restricting their access to silicon and semiconductor supply chains will have severe implications on economic performances. Furthermore, banning these Chinese vendors will hamper 5G and 6G R&D," says Leo Gergs, Research Analyst for 5G Markets.
Read more.
CNN Business
ABI Research analyst Jonathan Collins said there's definitely money to be made from items that help automate household tasks. The market research firm found the smart home market in 2020 grew 6.7% over 2019 to $88 billion. However, that's $11 billion below pre-pandemic expectations.
Read the full article.
Trucking Info
The logistics challenge of transporting and distributing the COVID-19 vaccine has been compared to climbing Mount Everest. "Developing vaccines and getting them licensed is like building a base camp at the bottom of Mount Everest," said Kate O'Brien, director of WHO's Department of Immunization, Vaccines and Biologicals, in a World Health Organization Q&A broadcast last fall. "Actually getting to the peak is the delivery part."
Shipping and delivering vaccines adds to the complexity, especially as distribution rolls from large urban areas to more remote locations with smaller populations, warned Susan Beardslee, ABI Research's principal analyst for freight transportation and logistics, in a Wall Street Journal article titled, "Vaccine Transport Leans on Tight Network of Refrigerated Truck Operators."
"If you think of rural populations, you're not necessarily going to bring in a tractor-trailer," she told the paper. "In a remote area, where are you going to find those drivers that are available and used to handling [temperature-sensitive] pharmaceutical products?"
Read the full article.
Reuters Next
Jan. 11, 2021 - Jan. 14, 2021
Online
Event Website

The Things Conference
Jan. 25, 2021 - Jan. 29, 2021
Online
Event Website
Speakers:
Adarsh Krishnan

IEC 61850 USA
Jan. 27, 2021 - Jan. 27, 2021
Online
Event Website

Gazing Ahead with Intel: Artificial Intelligence for Telecommunications
Jan. 27, 2021 - Jan. 27, 2021
Online
Event Website
Speakers:
Don Alusha

Cyber Intelligence Asia
March 9, 2021 - March 11, 2021
Jakarta, Indonesia
Event Website

IoT Tech Expo Global
March 17, 2021 - March 18, 2021
Online
Event Website

Reuters Events Mobility: Ridership Week
March 29, 2021 - April 2, 2021
Online
Event Website

Sensors & IIoT: Manufacturing + Automation + Robotics North America
April 14, 2021 - April 15, 2021
Online
Event Website
Speakers:
Ryan Martin

The Future of 5G and LoRaWAN: Connecting the Next Billion Devices
April 14, 2021 - April 14, 2021
Webinar
Event Website
Speakers:
Adarsh Krishnan

RoboBusiness Direct Spring 2021
April 29, 2021 - April 29, 2021
Online
Event Website