With the semiconductor shortage coming on the heels of the COVID-19 pandemic, the global supply chain is in a state of flux. Perhaps no sector of the supply chain has been as disrupted as commercial transportation, which includes trucks, trailers, telematics, etc.
Join this insightful webinar as we highlight the transformative trends that are reshaping fleet and provide practical guidance for commercial fleet providers looking to thrive in this new normal.
Topics for discussion will include:
Significant fleet trends including eCommerce, 3G, 4G, and 5G, telematics, autonomy and electrification
Market challenges related to delivery, profitability, and driver behavior
How location data and technology can solve challenges drive enhancements, including real-word case studies
Analyst Insider Subscribers can view one free Insight every week. For full access, talk to our team.
The IoT service provides an additional revenue stream for Lexmark—in addition to Lexmark's printers and cloud print services—and also differentiates Lexmark from print rivals such as Ricoh that now offers information management and digital services
Unlock this ABI Insight
The informational failure represented by consumers owning too many unused chargers for their electronic devices is estimated to generate more than eleven tons of e-waste per year in the European Union, and the EC has tried to nudge the electronics industry many times to reduce their negative externalities though a voluntary agreement.
Unlock this ABI Insight
After hitting a historical high in 2019 with US$8.3 billion, total funding suffered a 52% decline, resulting in a total of only US$4 billion in 2020.
Unlock this ABI Insight
Kameleon is a semiconductor start-up developing an advanced hardware security platform known as the Security Processing Unit (ProSPU), targeted at servers, data centers, and cloud computing,
Unlock this ABI Insight
RIS could be a real value-added technology, but certain technical challenges must be adequately addressed before it gets integrated into future communication standards and move towards commercialization.
Unlock this ABI Insight
According to new research published by ABI Research, professional service revenues for Private 5G enterprise networks will grow from US$58 million in 2021 to US$5.8 billion in 2026, while connectivity revenues will only amount to US$5 billion in the same timeframe. Deployments for energy generation (oil & gas, mining, and power plants), industrial manufacturing and logistics are the main drivers behind system integration revenue. These verticals are early adopters of private 5G network deployments and are characterized by a high degree of complexity and stringent performance requirements
"These service revenues highlight the fact that providing enterprise-grade 5G will be much more than just supplying enterprises with connectivity," says Leo Gergs, Senior Analyst, 5G Markets at ABI Research. "The true value proposition for enterprise 5G does not lie in the connectivity technology itself, but rather in the applications that it enables."
Read more.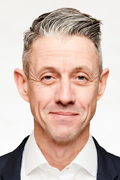 More than 630 million smart home devices will ship this year, but a raft of recent developments will shape the value and scope of those smart home investments as the wider market begins to transition, finds ABI Research.
"The efficiencies and capabilities that smart home adoption offers consumers, service providers, and the technology industry now lies well beyond what has broadly been 'new gadget' appeal," says Jonathan Collins, Smart Home Research Director. "Smart home is transitioning from vendor silos to networked infrastructure with value shared across multiple players and pushing beyond the home and across industries, cities, nations, and economies."
Read more.
CNN
"Apple has pulled off a masterstroke by taking items out of the iPhone box ... so then users are guided towards the purchase of additional premium priced accessories," said David McQueen, research director at market research firm ABI Research. "Apple is basically saying, these are aspirational products, and if you can afford to spend around $1,000 on a phone you can spend another few hundred dollars or so on our accessories."
By lowering the entry-level price for AirPods, Apple is once again betting on the winning strategy it has used for products like the iPhone and Apple Watch, often referred to as the good, better, best model.
Read the full article.
ThomasNet
"Medical facilities are short on a range of supplies, and this could only get worse. Shortages of masks and gloves from the early days of the pandemic have spread to many other medical items in the United States and Europe, from exam tables and heart defibrillators to crutches and IV poles." - Adhish Luitel, Industry Analyst, Supply Chain Management and Logistics, ABI Research
Read the full article.
5G Manufacturing Forum
Nov. 9, 2021 - Nov. 9, 2021
Virtual
Event Website
Speakers:
Leo Gergs

AutoSensONLINE
Nov. 23, 2021 - Nov. 23, 2021
Virtual
Event Website
Speakers:
Dominique Bonte

TechEx Europe 2021
Nov. 23, 2021 - Nov. 24, 2021
RAI Amsterdam
Event Website

FutureNet Middle East and Africa
Jan. 26, 2022 - Jan. 26, 2022
Middle East and Africa
Event Website

Geo Week
Feb. 6, 2022 - Feb. 8, 2022
Denver USA
Event Website