DATE: Tuesday, June 29
TIME: 11:00 am ET
The industrial robotics market has grown considerably over the previous decade and, despite the challenges of the coronavirus, early results suggest 2021 will be a year of record sales and investments. But while the industry is seeing high growth, questions remain about the safety of these robotic systems. This issue is becoming even more acute as more robots are expected to be mobile and will need to navigate through the use of advanced sensors.
As demands increase over the next decade, added importance will be attributed to proprietary RTOS vendors who can offer a higher level of certification and help orchestrate the increasing amount of data generated by robots.
In this webinar, ABI Research and BlackBerry QNX will outline the role of RTOS vendors in the robotics industry and the importance of proprietary RTOS vendors in delivering functional safety to the industrial robotics ecosystem.
Analyst Insider Subscribers can view one free Insight every week. For full access, talk to our team.
The company employs 18 people whose expertise in computer vision and 3D geometry looks to reduce the time required for the likes of Airbus, Bosch, PSA Groupe, and other Tier One automotive suppliers when designing new products and components.
Unlock this ABI Insight
The 5G smartphone market is becoming the most accelerated mobile technology generation ever, offering an extensive opportunity across the network options of both 5G sub-6 Gigahertz (GHz) and mmWave, which can enable ultra-fast data throughput using very short-range networks. Up until now the use of mmWave in smartphones has been limited at best, but this is about to change.
Unlock this ABI Insight
If no one player is to step forward and claim the edge, then what is the best strategy to capitalize from the projected growth in operations at the edge?
Unlock this ABI Insight
The XR80 and XR90 are modular, their 5G components being stackable, due to multiplex cellular connections for a greater throughput rate, and removable so that in the future they can be upgraded with new, better 5G chipsets.
Unlock this ABI Insight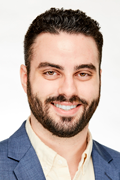 A confluence of growth factors in the augmented reality space will propel the market forward. According to new research by ABI Research, nearly 28 million augmented and mixed reality smart glasses will ship in 2026, while the total global AR/MR market will surpass $175 billion in the same year. This growth and demand are spread across both enterprise and consumer, with gradual but steady enterprise demand meeting with accelerating consumer activity in the next few years.
"Major tech players across hardware, software, and services look familiar in the consumer space, contributing to strong and consistent overall growth," says Eric Abbruzzese, Research Director. Apple, Facebook, Google, Samsung, Huawei, Microsoft, and others are all already investing significantly in AR. "Those big tech names, with active investment and product ranging from already available, to announced, to all-but-announced, are creating a consumer AR market that will be dynamic and welcoming rather than struggling and immature."
Read more.
While numerous existing RTLS technologies, including Bluetooth, Wi-Fi, and UWB have been available for a few years now, they have failed to capture the market potential so far. In fact, according to a new survey conducted by ABI Research, 87% of enterprises said they have not yet deployed RTLS technology within their business, primarily because of the significant barriers to adoption facing existing RTLS solutions. Most of the barriers to deployment of RTLS mentioned in ABI Research's survey point to the fragmentation of existing solutions, which impact the total cost of ownership, the complexity to implement, operate and maintain them, and the uncertainties around their reliability and their maturity level.
"All the barriers identified by the survey are currently constraining the RTLS ecosystem from developing and flourishing. Current solutions addressing this market today are struggling to generate scale as they are not ticking all the commercial and technology requirement boxes of end-users," explains Malik Saadi, Vice President of Strategic Technologies.
Read more.
RCR Wireless
China Mobile, the world's largest operator in terms of subscribers, added 16.65 million 5G subscribers in May, according to the carrier's latest available figures.
China is forecast to reach 739 million 5G subscribers by 2025, according to a recent study by ABI Research. This figure would represent nearly 40% of the global market share in the 5G segment. In terms of the annual mobile data consumption, the 5G annual data traffic in China is forecast to reach 782 exabytes by 2025, representing a share of nearly 60% of the world's total 5G data consumption.
Read the full article.
International Business Times
Creating secure IoT devices can be difficult due the breadth and variety of form factors available on the market, which makes for a fragmented ecosystem where security standardization is difficult. Today, security solutions are increasingly designed directly into IoT devices, whether they are resource-constrained or multi-function smart devices. Global tech market advisory firm ABI Research expects growing adoption of developer-friendly on-device security architectures, such as runtime protection and secure execution environments, at affordable prices for IoT markets.
"Traditionally, IoT device security has been implemented at the network level, mostly because security functions are either too complex, resource-intensive, or costly to integrate. However, such arguments are less convincing today," says Michela Menting, Digital Security Research Director at ABI Research.
Read the full article.
Industrial IoT Conference
June 22, 2021 - June 25, 2021
Miami FL
Event Website

IoT Evolution Expo
June 22, 2021 - June 25, 2021
Miami FL
Event Website
Speakers:
Ryan Martin

Building Functional Safety Into Industrial Robotics
June 29, 2021 - June 29, 2021
Online
Event Website

Powering the Edge -- IoT Analytics and AI for Smart Metering
Aug. 15, 2021 - Aug. 15, 2021
Online
Event Website
Speakers:
Adarsh Krishnan

FutureNet Asia
Aug. 26, 2021 - Aug. 26, 2021
Webinar
Event Website
Speakers:
Jake Saunders

Commercial UAV Expo
Sept. 7, 2021 - Sept. 9, 2021
Las Vegas
Event Website

Powering the Edge -- IoT Analytics and AI for Smart Metering
Sept. 15, 2021 - Sept. 15, 2021
Webinar
Event Website
Speakers:
Adarsh Krishnan, Kateryna Dubrova

EE Times AI Everywhere
Sept. 28, 2021 - Sept. 29, 2021
Virtual
Event Website

Data Innovation Summit
Oct. 14, 2021 - Oct. 15, 2021
Virtual
Event Website

5G Manufacturing Forum
Nov. 9, 2021 - Nov. 9, 2021
Virtual
Event Website
Speakers:
Leo Gergs