DATE: Tuesday, June 29
TIME: 11:00 am ET
The industrial robotics market has grown considerably over the previous decade and, despite the challenges of the coronavirus, early results suggest 2021 will be a year of record sales and investments. But while the industry is seeing high growth, questions remain about the safety of these robotic systems. This issue is becoming even more acute as more robots are expected to be mobile and will need to navigate through the use of advanced sensors.
As demands increase over the next decade, added importance will be attributed to proprietary RTOS vendors who can offer a higher level of certification and help orchestrate the increasing amount of data generated by robots.
In this webinar, ABI Research and BlackBerry QNX will outline the role of RTOS vendors in the robotics industry and the importance of proprietary RTOS vendors in delivering functional safety to the industrial robotics ecosystem.
Analyst Insider Subscribers can view one free Insight every week. For full access, talk to our team.
The system works at the virtual machine level to detect attacker-injected malware residing inside guest machines. Essentially, ZTE has developed a deep software inspection mechanism (user security logs and network traffic) that can provide real-time threat analysis.
Unlock this ABI Insight
Ericsson, along with Deutsche Telekom and Cosmote, has demonstrated the viability of the W-band (92 – 114 GHz) for multi-gigabit wireless backhaul for 5G and beyond.
Unlock this ABI Insight
By disaggregating software from hardware and introducing open interface and reference designs, network operators target unlocking the traditional telco supply chain, which was dominated by a handful of incumbent infrastructure vendors.
Unlock this ABI Insight
With L2+ autonomous systems costing up to US$10,000, and L4 up to US$125,000 per vehicle, carmakers are yet to develop profitable business models.
Unlock this ABI Insight
The partnership with Yara, a Norwegian agricultural fertilizer producer, will optimize the capabilities of their daily functionalities, with IoT technologies playing a key role.
Unlock this ABI Insight
At this year's Google I/O annual developer conference, the company announced a strategic alliance with Samsung to unveil a new unified platform for smartwatches, which is currently named 'Wear'.
Unlock this ABI Insight
The new Simulation Software Competitive Assessment by ABI Research provides an in-depth and unbiased examination of the solutions offered by eleven simulation software suppliers, while at the same time delivers market insights based on certain chosen technological criteria including modelling capability, data ingestion, and decision support. These three criteria and their sub-elements were identified as the most vital for the evolution of simulation software to support manufacturers' operations. The companies evaluated and ranked are:
Market Leaders: Siemens, Dassault Systèmes, Altair, and Hexagon
Mainstream: Autodesk, Ansys, CreateAsoft, AnyLogic
Followers: Famic Technologies, FlexSim, SIMUL8
Siemens came out on top in the competitor ranking and was closely followed by Dassault Systèmes, with both firms scoring well across all criteria. Rounding out the top four spots are Altair and Hexagon. Both offer a comprehensive set of analytical tools to help product designers and those tasked with optimizing the production line. The likes of Autodesk, Ansys, AnyLogic and CreateASoft are not far behind, utilizing their expertise in product and process design in their simulation solutions. Others are taking a more consultative approach (FlexSim) and others providing a proposition that fits the needs of first-time users of simulation software (Simul8 and Famic Technologies).
"All in all, the research shows a very competitive marketplace with suppliers offering solutions that were unimaginable a decade ago," says Michael Larner, Industrial and Manufacturing Principal Analyst.
Read more.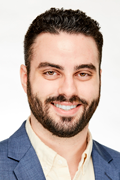 A confluence of growth factors in the augmented reality space will propel the market forward. According to new research by ABI Research, nearly 28 million augmented and mixed reality smart glasses will ship in 2026, while the total global AR/MR market will surpass $175 billion in the same year. This growth and demand are spread across both enterprise and consumer, with gradual but steady enterprise demand meeting with accelerating consumer activity in the next few years.
"Major tech players across hardware, software, and services look familiar in the consumer space, contributing to strong and consistent overall growth," says Eric Abbruzzese, Research Director. Apple, Facebook, Google, Samsung, Huawei, Microsoft, and others are all already investing significantly in AR. "Those big tech names, with active investment and product ranging from already available, to announced, to all-but-announced, are creating a consumer AR market that will be dynamic and welcoming rather than struggling and immature."
Read more.
The Robot Report
Universal Robots (UR) is currently the dominant player in the market, with 50% of the total shipments and posting $219 revenue for 2020. In the first quarter of 2021, UR earned $66 million from cobot arm sales, which is up 32% year-over-year and 15% over Q1 2019.
But, according to ABI Research, challengers like FANUC, ABB, and others are beginning to catch up after initially lagging in the space. They have done this by improving user interface and the usability of their systems, according to ABI.
"The most direct benefit of cobots is not in their ability to collaborate with humans," said Rian Whitton, principal analyst at ABI Research. "Rather, it is in their relative ease of use, improved interface, and the ability of end-users to redeploy them for different tasks."
Read the full article.
Venture Beat
Manufacturing is undergoing a resurgence as business owners look to modernize their factories and speed up operations. According to ABI Research, more than 4 million commercial robots will be installed in over 50,000 warehouses around the world by 2025, up from under 4,000 warehouses as of 2018.
Read the full article.
Edge Computing Expo
June 16, 2021 - June 17, 2021
Online
Event Website

IoT Evolution Expo
June 22, 2021 - June 25, 2021
Miami FL
Event Website
Speakers:
Ryan Martin

Industrial IoT Conference
June 22, 2021 - June 25, 2021
Miami FL
Event Website

Building Functional Safety Into Industrial Robotics
June 29, 2021 - June 29, 2021
Online
Event Website

Powering the Edge -- IoT Analytics and AI for Smart Metering
Aug. 15, 2021 - Aug. 15, 2021
Online
Event Website
Speakers:
Adarsh Krishnan

FutureNet Asia
Aug. 26, 2021 - Aug. 26, 2021
Webinar
Event Website
Speakers:
Jake Saunders

Commercial UAV Expo
Sept. 7, 2021 - Sept. 9, 2021
Las Vegas
Event Website

Powering the Edge -- IoT Analytics and AI for Smart Metering
Sept. 15, 2021 - Sept. 15, 2021
Webinar
Event Website
Speakers:
Adarsh Krishnan, Kateryna Dubrova

EE Times AI Everywhere
Sept. 28, 2021 - Sept. 29, 2021
Virtual
Event Website

Data Innovation Summit
Oct. 14, 2021 - Oct. 15, 2021
Virtual
Event Website